Almost every town/village in Mallorca has its own
traditional market day
...
here at Southwest Mallorca
we love how you can haggle with the stall owners whilst browsing their magnificent produce from locally sourced food to leather shoes!! Please take a look at our guide to the local markets, you never know what souvenirs you can come away with! It is worth noting that the majority of the markets are open early in the moring ususally from around 8am and close anywhere between 1 - 2pm.
Calvia Market
Close to the Tramuntana Mountains this South Westerly town is at the heart of Mallorcas most popular municipality.
Held every Monday 8am - 12pm. Here you will find around 60 stalls along the Calle Major. Plenty of food stalls with fresh produce along with clothing, shoes and crafts. The market is held near the parish church of San Juan.
Manacor Market
This colouful daily market is helf between 8.30 and 1pm. Manacaor is Mallorca's second largest city outside of Palma and where tennis player Rafael Nadal was born. The market is located at Plaza Raman Llull and sells items such as fruit & veg, locally crafted artisan products, clothes and footwear.
Aludia Market
This market is held twice weekly on Tuesday and Sunday at the Old Town. Again there is huge variety on offer, fruit & veg, shoes, clothes, souvenirs, leather goods, hippy products, hair plaits, traditional Mallorcan doughnuts, jewellery and bed linen! The market is spread out around the town, inside the walls and Roman City of Pollentia.
Arta Market
Arta is a little town close to the coast. This market happens every Tuesday at the Conqueridor Placa. The market normally finishes around 1pm. This is a local market which tends to refrain from selling 'tourist' souvenirs and trinkets. It is easy to get around and has an indoor farmers market with amazing produce. In the main square you will find fruit & veg with organic stalls selling items such as ( purple) carrots, ginger, fennel and herbs. This is a very fragrant market.
Santa Margalida
Located atthe North of Mallorca, around the bay of Alcudia, this market happens on Tuesday and Saturdays between 8am and 1pm. The sell fruit & veg and more specialised produce such as cheeses, cured meats and fish.
Located at Paseo Son Mas which is just below the beautiful church Andtrax Market occurs every Wednesday. Selling handicrafts, clothes, pottery, flowers, chives, leather goods and footwear, the market has a fantastic atmosphere, the stalls are organised into product area i.e food, flowers. Several restaurants and cafes are available to you, it is easy to park in the side streets or by the town hall. Dates to note are April where and agricultural fair is held, 30-31st October is when the flower market is and the Christmas market normally starts around 13th December.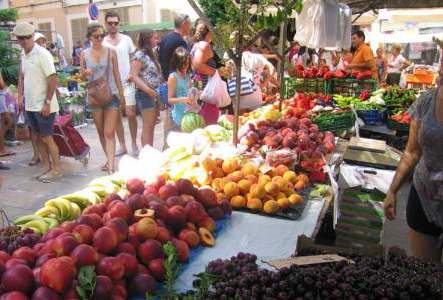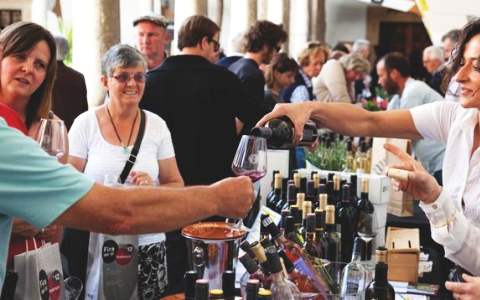 Llucmajor Market
A bit of history here as Llucmajor can claim they hold the oldest market on the Island. In 1543 King-Emperor Carlos V granted Llucmajor the Royal privilledge of holding fairs from 29th September - 18th October and weekly markets and the tradtion is still going strong today. There is a fruit & veg market held every Wednesday and on Fridays there is a much larger market. The market is held on the Plaza Espana in this vibrant and busting town. Llucmajor offers some of the best produce including fruit & veg and clothes.
Pollensa Market
This busy market is held every Wednesday on the main square in front of the church. Between 9 and 1.30. The market is in front of the restaurants and bars. The produce on offer consists of flowers, local food, olives, fruits, vegetables, sweets, leather, toys, games and jewellery. In the summer there is a night market this is held between June - September. On a Sunday in the old town of Puerto Pollensa by the main church they hold the same market with extra stalls selling clothes and souvenirs, sunglasses, bags, serrano hame and other meats. This is one of the best markets for gifts.
Arenal Market
Arenal is on the Eastern side of Playa De Palma. The market happens on Tuesdays, Wednesdays, Fridays and Saturday. Fruits & veg, crafts, Mallorcan products including flowers. The flea market is held on Thursday.
Consell Market
Thursday and Sunday between 8am and 1pm. Arenal holds the largest flea market every Sunday, here you will find a variety of products ranging from the very useful…to the not so useful!! Second hand clothes, taps, furniture, antiques, jewellry, even rusty old car engines!! There are 300 stalls covering nice wide streets so you won't find it too over crowded. Refreshment stalls are available should you feel the need for a well earned rest after all the browsing ( shopping!! ). There is a barbecue stand and a good bakers stall. You can drive and pay for parking or take the train from Palma. There are ample buses and taxis to the market also.
Binissalem
Binissalem is a small town in the centre of Mallorca, it is well known for it's winemaking industry and is around 8km from Palma Airport. Here you will find a selection of shops, supermarkets, bars and restaurants. The old quarter is dominated by a church spire. In September the town holds a wine festival, Festa de's Verema with music and dancing. The market is held every Friday between 8am and 2pm. Held at the Plaza De L'Esglesia you will find fruit and veg along with a variety of food products, spices, oil, honey, wine as well as clothes, footwear bags and souvenirs.
Inca Market
This has to be the most famous market on Mallorca. It has been happening every Thursday since the 13th Century. Otherwise known as the Leather City of Mallorca, the market takes place at the centre of the island off the main road between Palma and Alcudia, it is Mallorca's largest market. Traders from all over the island flock here to sell their produce so you can expect a wide range of products such as; fruit & veg, soaps, flowers, shawls, leather shoes, bags and jackets. This is a place with great atmosphere, sounds and smells…well worth a visit.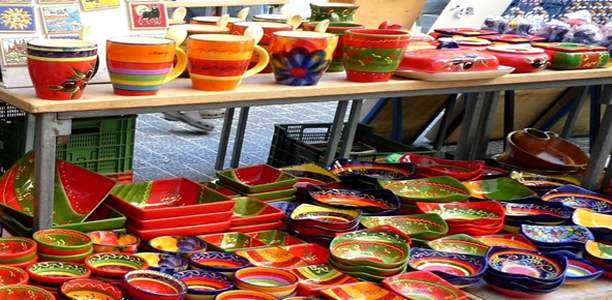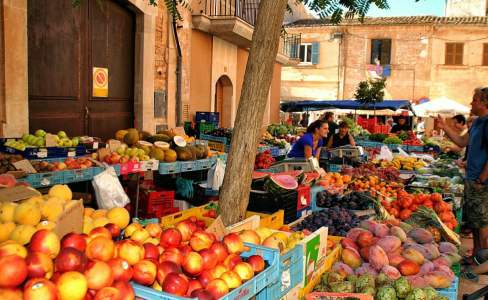 Algaida Market
Friday mornings between 8am and 1pm, Alcudia is a traditional town with winding streets leading to a main square with a church. This market has a fantastic reputation for organic procduce such as fruit & veg which is sourced locally. The town can be found 22km southeast from Palma.
C'an Picafort
Set on the North East Coast, C'an Picafort olds its market every Friday between 8am and 1pm. The resort has a laid back feel with a long stretch of sandy beach. Here you will find stalls with local produce on offer and it is a rule that you have to haggle when buying souvenirs!! You will also find leather goods and clothes for sale.
Palma
Palm hosts an array of markets on different days and we think each one will get your senses tingling. If you are an early bird you will love the fish market held Monday – Saturday. You will have to be there for 6a, to bag the best mullet, prawns, sardines and seabass!! This is a year round market and occurs at Es Moll de Pescadors. Mercat Artensal is a very lively craft on Placa Major all year around. In the summer months this market operates Monday – Saturday 10am – 2pm. This market has a good atmosphere with buskers, street entertainers and an open air café.
Mercat Olivar this is the main produce market Monday – Saturday between 7am – 2pm and the 2.30pm – 8pm. Held in the hall at Plaza Olivar and based on 2 floors, fresh produce on the ground floor and meats upstairs. There is a fantastic stall which sells pork chops marinated in honey and mustard
For your smelling senses, Rambla flower market is held every Saturday morning and is a Palma institution. Late June – September a night of free entertainment is held. Sa Bimbolla night fair and market with arts, crafts and clothing.
Valldemossa Market
Sundays between 8am – 1pm. Valldemossa is a beautiful Mallorcan town and good for clothing and souvenirs, there are shops of a similar nature within the village as well as a good selection of bars and cafes.
Santa Maria Market
This market happens every Sunday at 9am – 2pm. This is a huge market and everything is sold here! Fish is a specialty as well as veg from the local surrounding farms. Organic produce, cheeses, fruit, bread, honey and olive oil can be purchased. There are large car parks on 3 sides of the town. There are a number of cafes based around the blue tile roof church!
Port Cristo
Porto Cristo is the last market on our list. This is a beautiful little fishing village with a pretty marina and beach only an hour from Palma airport. There are lots of shops on narrow streets with trendy restaurants and bars. They hold a small market on a Sunday with unique items. Worth a trip.