With the perfect combination of Spanish culture and a sunny Mediterranean setting, the island of Mallorca makes a stunning destination to tie the knot. Between its natural beauty, convenient location and affection for luxury,the Island of Mallorca understands what you need and want from your big day. If you want a wedding that is truly unique and memorable then this is the place to go, here are some of the top reasons why you should consider getting married in Mallorca.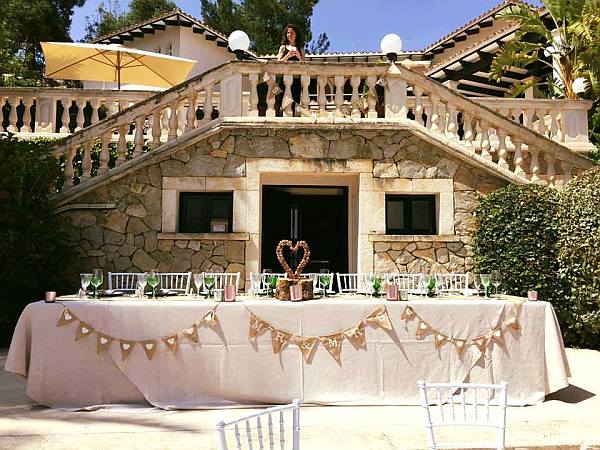 Romance on your wedding day is key and this island is full of luxury villas that are willing to host your event. From fine dining, stunning sea view villas or perhaps rolling mountain views and amenities that will make you feel like royalty, our Special Occasion villas in Mallorca are the obvious choice for wedding day festivities. Plus, when the big day is over, you will already be situated in a romantic setting to carry straight into the honeymoon.
Luxury Villas Weddings in Mallorca
2. The Temperature
The average temperature ranges from 16 to 30 degrees Celsius, making the weather, especially in summer, ideal. And, while you may be concerned about the heat, don't forget about the cooling Mediterranean breeze that commonly cools everything right down.
3. The Natural Setting
Mallorca is known for its natural beauty, making a stunning setting absolutely guaranteed on your wedding day. With pristine beaches, rugged mountains and rocky coves, the island has been blessed by nature, making it an effortlessly romantic backdrop for your wedding.
4. The Location
Located just a short flight from the UK, Ireland and destinations all around Europe, Mallorca is an island that is extremely easy to get to. While destination weddings can sometimes seem like a lot of effort and traveling, this island makes it easy for both you and the guests. With such close proximity to these other countries, it is far more likely that your guests will actually be able to make it to your wedding day celebration.
5. The Cities
This island has a lot going on and the cities make it an even more interesting place to visit. Both before and after the wedding, you and your guests can take trips to various destinations in order to explore. Guests can play golf in Real Golf de Bendinat, Golf de Andratx really is a dream course with 18 holes, (villas near Andratx Golf) or Santa Ponsa Courses (view Villas near Santa Ponsa Course) all of which are within close proximity to our Luxury Villas in Mallorca go shopping in Palma, with it's wonderful boutique and designer shops, take in the beauty of Soller or roam around the village of Valldemossa.
6. The Beaches
The beaches are a vital part of any island wedding and you won't want for choice on Mallorca. White sand and crystal blue waters are the characteristics of most of the island's beaches and while some are associated with resorts, others are more secluded and even unknown. Puerto Portals Beach is known for its beauty and high end feel while Santa Ponsa Beach is large, with everything to keep the family entertained and quite pristine. Es Carbo Beach is also mostly undeveloped and known for its pure waters and white sand. One of the most stunning beaches, Cala Figuera, is nestled deep within a cove that is surrounded by high mountains and clear water, making it perfect for a private event.


These six reasons only scratch the surface of why Mallorca makes the perfect setting you're your wedding day. If you want a day that is truly as special as it deserves to be, consider this stunning island; you'll be glad that you did.